What does Dr. Emacs think of the GNU Manifesto?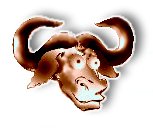 ---
P.S.: A bored acquaintance of mine ran The GNU Manifesto through doctor. Highlights:
You have your mind on unixs, it seems.
What makes you believe a shell command interpreter is nearly completed?
Do you really think you might want to supply eventually everything?
Tell me about your mit.
When did you first know that you must write gnu?
Are you sure gnu will be compatible with unix?
---
Other humor in the GNU Humor Collection.
Disclaimer
The joke on this page was obtained from the FSF's email archives of the GNU Project.
The Free Software Foundation claims no copyrights on this joke.
---
Return to GNU's home page.
Please send FSF & GNU inquiries & questions to gnu@gnu.org. There are also other ways to contact the FSF.
Please send comments on these web pages to webmasters@gnu.org, send other questions to gnu@gnu.org.
Copyright © 1999 Free Software Foundation, Inc., 51 Franklin St, Fifth Floor, Boston, MA 02110-1301, USA
Verbatim copying and distribution of this entire article is permitted in any medium, provided this notice is preserved.
Updated: $Date: 2006/05/07 07:10:36 $ $Author: ramprasadb $
---