Translations of this page
A Philosophical GNU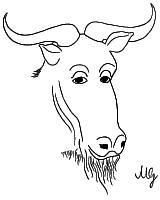 This GNU, looking particularly smart with arched eyebrows.
We thank Markus Gerwinski <markus@theo-phys.uni-essen.de>, the artist of this Philosophical GNU.
It is used to help identify the pages on this server that deal with the philosophy of the GNU Project.
This picture is available in the following formats:
Other art in the GNU Art Gallery.
No gifs due to patent problems.
---